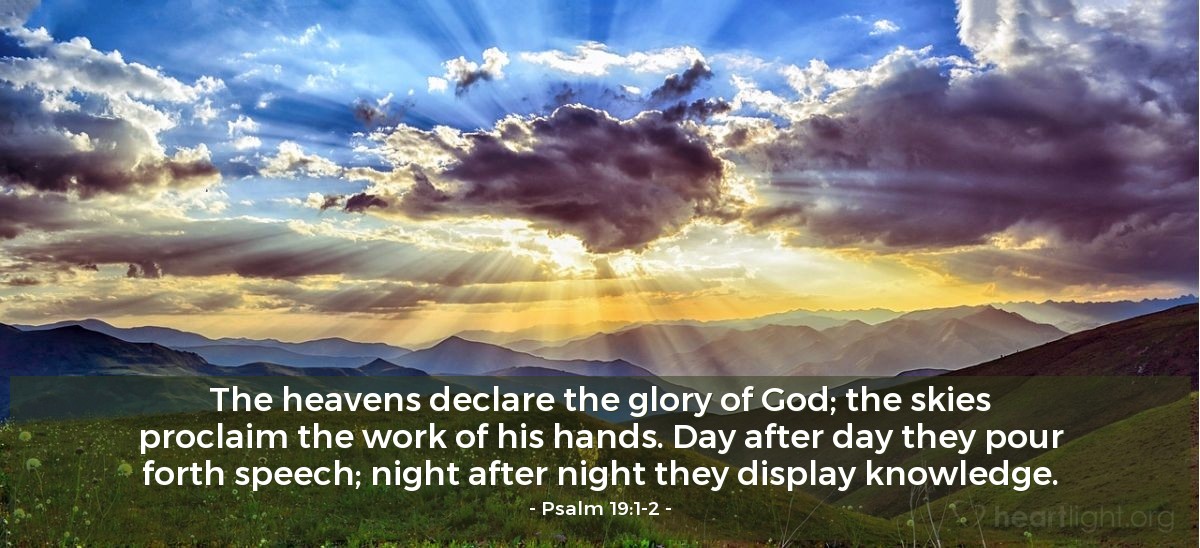 During the Covid-19 Pandemic, lots of questions have been asked about 'where is God in this?'.  Well as we reflect on Psalm 19, we will see that God, as always has been and is revealing Himself in both the Creation and through the Bible.
"The heavens proclaim the glory of God. The skies display His craftmanship.
Day after Day they continue to speak; night after night they make Him known. They speak without a sound or word, their voice is never heard. YET their message has gone throughout the earth and their words to all the world."
Day and night, sunrise and sunset, God, our creator paints the skies, His glory is seen, His craftmanship displayed; the order and structure of His creation revealed to all.
When we see a beautiful sunset or sunrise our reaction is one of awe at such intricate beauty, whether we turn up or not God still puts on that display, day after day, night after night they make Him known, pointing to His glory.
"God has made a home in the heavens for the sun, it bursts forth like a radiant bridegroom after His wedding. It rejoices like a great athlete eager to run the race. The sun rises at one end of the heavens and follows its course to the other end. Nothing can hide from its heat."
We see the sun pointing to God eager to burst out and be seen! Often here the sun is hidden behind the clouds, but it is still there, still doing it tour of duty, still pointing and reminding us that God is with us, reigning supreme in His universe.
"The instructions of the Lord are perfect, reviving the soul. The decrees of the Lord are trustworthy, making wise the simple. The commandments of the Lord are right, bringing joy to the heart. The commands of the Lord are clear, giving insight for living".
Just as God reveals Himself in creation, so too does He reveal Himself in His Word, our Bible. We see His glory, His craftmanship in creation and we see that same attention to detail and beauty as He shows us how to live good, balanced, healthy lives lived the right way with Him through His Word.
"Reverence for the Lord is pure, lasting forever. The laws of the Lord are true, each one is fair. They are more desirable than gold. They are sweeter than honey, even honey dripping from the comb. They are a warning to your servant, a great reward to those who obey them".
Those laws of God, they are good! They are for our benefit! Just as we teach a child good, safe ways of living and lay down boundaries for behaviour, so does God do for us and they are good, they are sweet ways, they are to be desired and they are to be followed!.
How can I know all the sins lurking in my heart? Cleanse me from these hidden faults. Keep your servant from deliberate sins! Don't let them control me. Then I will be free from guilt and innocent of great sin.
Yes, God's Word will point out our sin, it will show us our wrong thinking, our wrong ways, but it also shows us God's forgiveness, God's mercy and His love extended towards us in that He still loves us, despite our sin!
"May the words of my mouth & the meditation of my heart be pleasing to You, O Lord, my rock & my redeemer".
This is an appropriate prayer to end with, that our words & thoughts would be in alignment with God's. And a final declaration of trust – O Lord, You are my rock, You are my redeemer.
What about you? Have you seen God in creation? Have you seen Him in His Word? Same God, same ways, still speaking day after day, night after night. Do you see Him on the throne, reigning over His universe and do you trust in Him, call Him your Lord and Saviour?