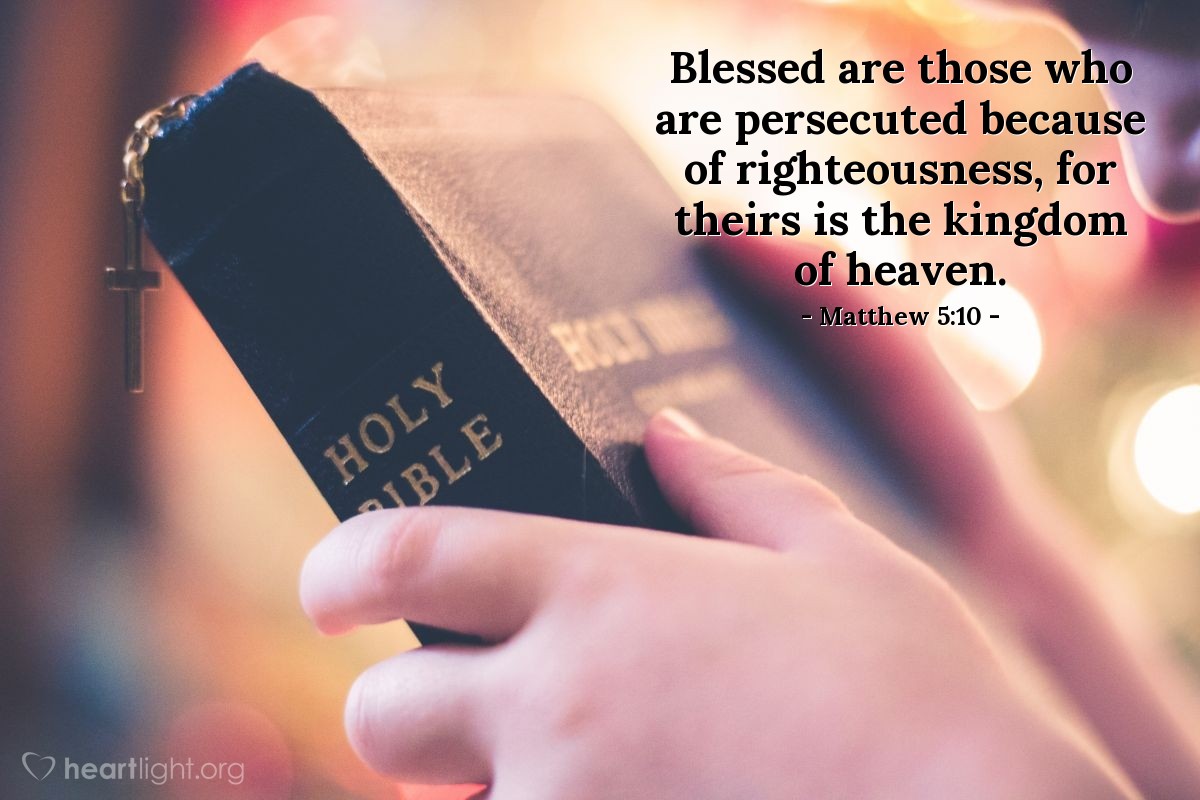 Blessed are those who are persecuted because of righteousness, for theirs is the kingdom of heaven. Blessed are you when people insult you, persecute you and falsely say all kinds of evil against you because of me. Rejoice and be glad, because great is your reward in heaven, for in the same way they persecuted the prophets who were before you.

Matthew 5:10-12
A strange reading for the week before Christmas you may think, but actually when you think about it, it is so apt and so relevant.
At Christmas we want to think about the Prince of Peace, the Saviour of the World coming, we want to think of nice things. Yet the harsh reality is that this Prince of Peace, this Saviour who came was hated, persecuted & rejected by mankind. And as His followers, we can but expect the same. There is an offence of the gospel which is aimed at those who follow Jesus, they don't want Jesus, so they don't want us and that can lead to persecution even in small subtle ways. They ridicule, make fun of our faith, they take the Lord's name in vain, they throw insults, they put us down, they go out of their way to be awkward, they display dislike and even hatred, all because they are rejecting the Saviour, they are hurt by the offence of the cross.
However, as always with these Beatitudes, it is the paradox which strikes us – those who are persecuted, given a hard-time because they are Christians, well they are actually blessed! They actually have reason to rejoice and be glad! Why? Because this Rejected Saviour comes and walks beside them, this Lord who suffered and was persecuted knows and understands and can draw alongside and strengthen in miraculous ways. The suffering Servant brings His own healing and balm and Immanuel, God is with us through it all as we discover that the times of our deepest lows can also be our times of highest joys.
And even though it is Christmas, families still face trials, pain, suffering and persecution. It doesn't stop, just because it is Christmas. I know a family who on the lead up to this Christmas are facing a Child Protection Court Case, just because they pray with their children!! They are experiencing that opposition of the gospel, and it is hard.
Dear friends,

Don't be surprised at the fiery trials you are going through, as if something strange were happening to you.  Instead, be very glad—for these trials make you partners with Christ in his suffering, so that you will have the wonderful joy of seeing his glory when it is revealed to all the world. If you are insulted because you bear the name of Christ, you will be blessed, for the glorious Spirit of God rests upon you.

1 peter 4:12-14,(nlt)
So as we rejoice in the coming King this Christmas, may we also take heart and be glad that we are counted worthy to suffer with Him.